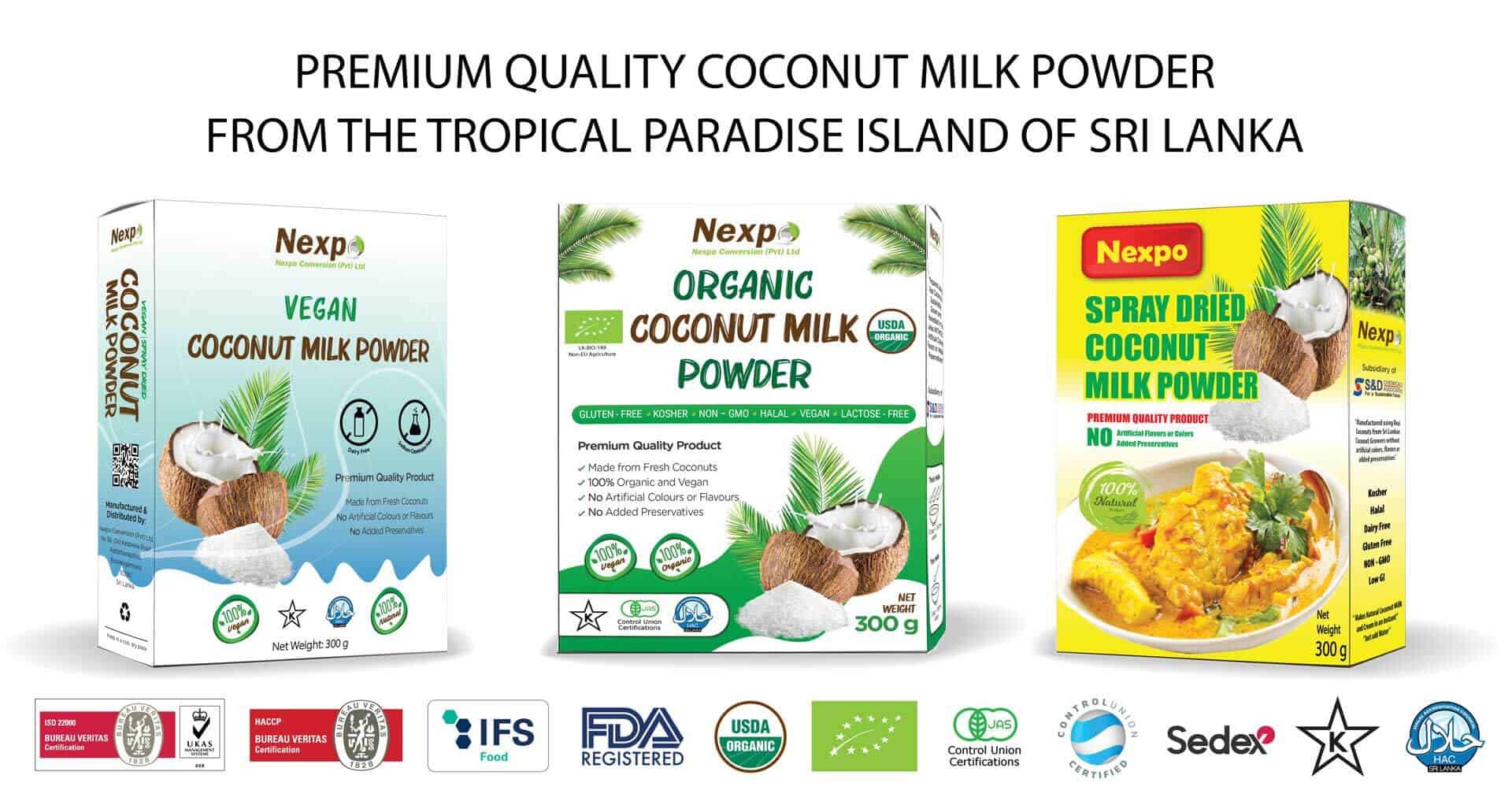 Nexpo Premium Coconut Milk Powder is prepared from pasteurized milk extract of carefully selected fine and fresh coconuts (Cocos nucifera) grown in Sri Lanka using  state of the art, proprietary three-stage spray drying technology in our very own IFS Food and ISO 22000 certified manufacturing facility to give you the all the goodness of coconut milk preserving its natural aroma and exotic flavour.
Made from Non-GMO ingredients with No artificial flavours, colours or added preservatives, our premium quality coconut milk powder is Gluten-Free and Lactose-Free. It is a dairy-free ingredient for vegans and lactose-intolerant individuals. Nexpo Coconut Milk Powder can be used straight from the pack or mixed with water to make Coconut Milk or Cream of desired consistency.
Coconut milk powder is rich in minerals like selenium, sodium, calcium, magnesium, phosphorus and a good source of iron which helps to prevent anemia. More than 60 % of the fat content in Nexpo Coconut Milk Powder is medium-chain triglycerides (MCTs). Due to their shorter length, MCTs are easily digested making them a much faster source of energy than long chain fatty acids. Studies have shown that MCTs  stimulate energy through thermogenesis, that promotes weight loss. MCTs are a great source of antioxidants, are known to boost cognitive function, improve brain and heart health, provide a good natural source of energy and helps to improve our metabolism. Coconut milk powder  is rich in lauric acid giving it anti viral and anti bacterial properties that aid in the improvement of human body's immune system.
Nexpo Spray Dried Coconut Milk Powder is an excellent flavouring agent for ice creams, yoghurts, soups, deserts, cakes, biscuits and bakery products and a superlative natural non-dairy creamer for smoothies, milkshakes, tea and coffee. It is also widely used in traditional cooking to add texture and flavour to exotic sauces and curries. Coconut Milk Powder is a superior alternative to coconut milk, due to its longer shelf life, ability to reconstitute the powder with water into a desired consistency of coconut milk or coconut cream and comparatively lower cost.
Coconut milk, therefore Coconut Milk Powder isn't limited to being a kitchen ingredient alone. It can be used to moisturise the skin, treat sunburns, prevent premature skin ageing, treat skin ailments, restore dry and damaged hair, act as a natural conditioner, and promote hair growth.
At Nexpo, we manufacture coconut milk powder without using Sodium Caseinate which is a mammalian dairy protein used by many manufacturers of coconut milk powder. The use of sodium caseinate  makes the product unsuitable for a vegan diet. However since Nexpo Coconut Milk Powder is Casein-Free, it is inherently vegan and suitable for paleo and keto diets as well.
Nexpo Conversion manufacturing facility is the first in the world with a coconut milk powder manufacturing process certified to the IFS Food standard. Our Organic Coconut Milk Powder is certified Organic to EU-Organic, USDA-NOP, and JAS Organic standards. We also offer Vegan and Conventional products all of which are Kosher and Halal certified.
Nexpo Coconut Milk Powder line up also includes a low-fat option that contains a  fat content of 45 % as opposed to a minimum 60 % fat content in our premium coconut milk powder. We have the manufacturing capability to customize the fat content of the coconut milk powder as per customer requirement.
We are able and willing to entertain any private labelling requirements of our customers.  We currently manufacture and export coconut milk powder with private labels for many customers worldwide. If you wish to have Coconut Milk Powder with your branding please click here to contact our private labelling department.

Nexpo Coconut Milk Powder is available in both retail and bulk packaging to suit our customer needs.  We specialise in manufacturing and exporting bulk coconut milk powder for our B2B clients located the world over.  Please click here to contact our friendly sales and marketing team for any product inquiries.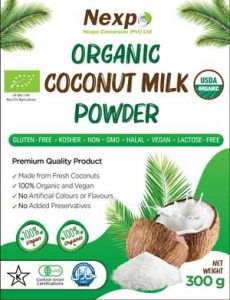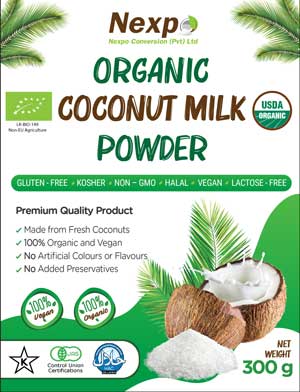 Organic Coconut Milk Powder
Vegan | Lactose-Free | Gluten-Free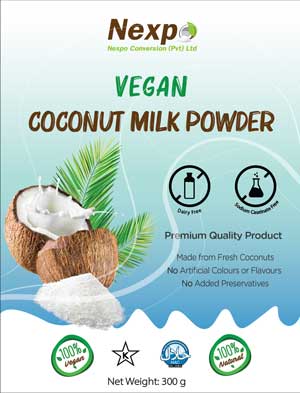 Vegan Coconut Milk Powder
Vegan | Lactose-Free | Gluten-Free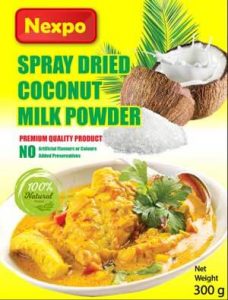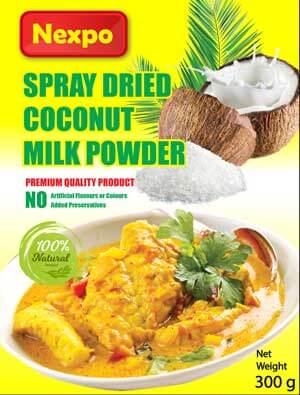 Conventional Coconut Milk Powder
Vegan | Lactose-Free | Gluten-Free